April 4th, 2016
Like my list of used Chrome Extensions, I'm building a list of recommended WordPress plugins.
But until I get it done, I have to give some pretty big props to PrettyPress. It's a plugin that lets you edit in Visual, Text, and Markdown – the markup format of sites like reddit, GitHub,, GitLab, and the Stack Exchange family.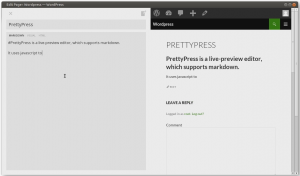 November 20th, 2012
I found the Auto Tweet plugin today and have added it along with several others to the pantheon of WordPress additions that make up this blog.
WP is awesome – the plugin architecture is super cool. But there are times when I wonder why more of the plugins haven't been made core aspects of the product itself.